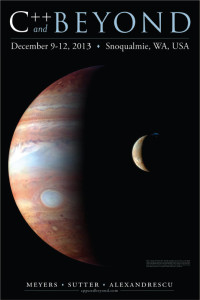 For those of you who are attending C&B next week, Scott already recommended some background reading for your pre-seminar enjoyment.
I also have one piece of background reading I'd like to recommend all attendees reread before my Wednesday morning talk on "C++14 Style":
It's not long, but it's important. Please take time to review it on your way to sunny (maybe) Snoqualmie, WA, USA.
I look forward to seeing many of you next week! Be sure to attend the Monday night reception if at all possible. It'll be a relaxed informal (and likely still informative) gathering that will set a nice tone for the event. See you there.