Scott Meyers • Herb Sutter • Andrei Alexandrescu
September 29 - October 1, 2014 • Maritim Hotel • Stuttgart, Germany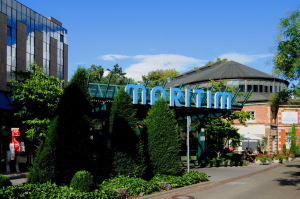 C++ and Beyond is a small, conference-like event built around intensive technical sessions by Scott Meyers, Herb Sutter, and Andrei Alexandrescu, but designed also to facilitate the exchange of experiences and insights among the unusually talented developers who attend.
Technical sessions focus on topics of special interest to professional developers where Andrei, Herb, and Scott have expertise. Topics in past years have included CPU caches, lambda expressions, move semantics, CAS-based concurrency, variadic templates, the C++11 memory model, GPGPU programming, code optimization techniques, and the C++11 threading API. For details, consult the full schedules for C&B 2010, C&B 2011, C&B 2012, and C&B 2013, as well as the selected videos from prior C++ and Beyonds.
This year's event is a little different from previous events:
Most of the talks will be updated versions of the presentations given at C&B 2013. (See the 2014 schedule here.) If you were unable to attend C&B this past December, this is your chance to see what you missed.
A group dinner on the first day is included.
The schedule is a bit compressed, so some aspects of previous C&Bs are not present. These include group breakfasts and evening discussion sessions.
Partnering in this event is QA Systems, the same company Scott has worked with since 1999 on technical seminars in Europe. They'll be handling registration and all other logistical and administrative aspects of the event. Consult their web page for C&B 2014 for all the details of this event.
A brochure for the event is available here.
Scott's, Herb's, and Andrei's backgrounds vary, but these C++ legends have three things in common. First, they're interested not just in C++, but in how its power can be applied to real and challenging problems. Second, they have an uncanny ability to explain complex technical material. Most importantly, they know how to create an event of enormous value to professional C++ developers, regardless of whether their experience with the language spans one or two years or one or two decades.

Scott Meyers
wrote the books
Effective C++
,
More Effective C++
, and
Effective STL
. He publishes and maintains
annotated training materials
dedicated to C++11/14 and to the use of C++ in embedded systems. He's currently working on
Effective Modern C++
, which he expects to publish in time for this year's C&B.

Herb Sutter
wrote four books and hundreds of technical articles on C++ and concurrency. He chairs the ISO C++ standards committee and led or participated in the design of several C++11 features.

Andrei Alexandrescu
is working in areas as varied as C++, Machine Learning, Natural Language Processing, and design of the D programming language. This work has led to three books (one coauthored with Herb Sutter himself) and numerous other publications.