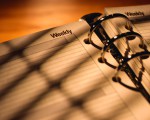 The schedule for C++ and Beyond 2012 is perpetually tentative, because we reserve the right to change things at the last minute if we're certain it will be for the good of the event.  At the same time, we recognize that people make plans based on the schedule, so we do our best to adhere to what we announce.
You can view the current schedule here.
The general structure of C&B 2012 is as follows:
Sunday, 5 August:
7:30–9:30PM: Informal reception with complimentary light refreshments and soft drinks.  Alcoholic beverages available for purchase. Location: Sammons Balcony.
Monday, 6 August – Wednesday, 8 August:
8:00–9:00AM: Communal breakfast. Location: Skyline Room and Mountain View Terrace.
9:00AM–~12:00PM: Technical sessions. (Ending time is approximate and may extend as late as 12:30PM.) Location: Grand Ballroom A.
~12:00–~1:00PM: Communal lunch. (Starting time is approximate and depends on when morning technical sessions end.)  Location: Skyline Room and Mountain View Terrace.
2:30–5:00PM: Technical sessions. Location: Grand Ballroom A.
For your location-identification convenience, this annotated hotel map (PDF) shows where each part of C&B 2012 takes place.
The longish break between the morning and afternoon technical sessions is designed to allow ample time for lunch plus some "post-lunch activity." Possible activities include discussions with fellow C&B attendees, hiking or jogging near the hotel, using the on-site sports complex, catching up with email, conferencing with remote colleagues, visiting with non-C&B participants who accompanied you to Asheville, cranking out code, or taking a nap.
Topics for Technical Sessions
As noted at C&B 2012's Home Page, topics for the technical sessions are determined by Herb, Andrei, and Scott in the months and weeks prior to the event; talks generally cover new material developed expressly for C&B; and session ideas are usually posted to the C&B blog for advance feedback.  Topics that have been finalized (bearing in mind that the schedule is perpetually tentative) are listed here:
If you have a topic you'd like to see covered, don't be shy about suggesting it, either through a blog comment or via email to the C&B Coordinator.