Asheville in the summer gives rise to a number of interesting things to do in the local area, and the Grove Park Inn has selected Accents on Asheville to coordinate activities for its guests.  If you plan to arrive before or stay after the conference, make sure to take in some activities and excursions available, which are listed below.  For more information or to make a reservation, contact Accents on Asheville.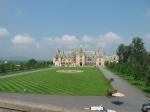 Biltmore Estate Day Tour.  If you only had the opportunity to do one thing while in Asheville … the magnificent beauty of Biltmore House, Gardens & Winery are revealed in this half-day tour.  Your excursion includes a self-paced, self-guided tour of the restored rooms of Biltmore House, America's largest privately owned residence, acres upon acres of beautiful Gardens, and a tour of Biltmore's award-winning Winery followed by a wine tasting for guests 21 and older.  This tour includes roundtrip transportation with professional tour guide, admission to the Biltmore Estate, bottled water, and an all-inclusive seasonal lunch at Biltmore Estate's Deerpark Restaurant.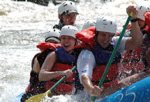 Whitewater River Rafting is fast becoming a favorite activity for those visiting the Western North Carolina Mountains.  No other sport combines teamwork, fun and outdoor adventure like a trip down the river.  If your group is looking for a scenic and exhilarating adventure, this is the tour for you!  Transportation will meet your group at the resort and transport you to an exciting and challenging raft trip through the Class I to III rapids of the French Broad River or Class I-IV of the Pigeon River (based on river conditions).  Children must be eight years old to participate in raft trip.  Please notify us if children are part of this program because parent or guardian will be required to sign waivers for youths under 18 years of age.  This activity includes round-trip transportation, rafting, all necessary equipment, a guide in each raft, bottled water, and an all-inclusive lunch.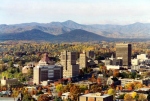 Best of Asheville Tour.  Our professional guide will accompany you on a tour highlighting Asheville's history, architecture, and most noted shopping venues.  Your first stop is the Historic Biltmore Village, a community of unique boutiques, restaurants & galleries.  Your next stop is the Folk Art Center on the Blue Ridge Parkway, a handicraft museum with revolving exhibits showcasing the preeminent crafters of the Blue Ridge.  The gift shop contains works of over 200 regional artists representing the finest in traditional mountain and contemporary American crafts.  Before returning to the Resort you will be given a tour of Downtown Asheville, lunch at one of Asheville's finer cafés and we will make several more stops where there are a myriad of unique shops to peruse.  This tour includes roundtrip transportation with professional tour guide, and all-inclusive lunch, as well as bottled water and light snacks.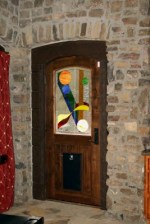 Asheville Artist Studio Tour.  Asheville and the surrounding region has one of the largest concentrations of fine artists and crafters in the country.  Our professional guide will accompany you on a private studio tour of at least three of Asheville most noted artists.  Popular artists with our aficionados in the past have included glass blowers, potters, metal workers, and textile artists, but we also choose specific artists who are willing to demonstrate their craft and are open to communicate about their techniques and works (not all artists are suited for this).  Though our serious art seekers prefer to spend more personal time with the individual artists, this tour may also include a visit to one of Asheville's more prominent art galleries.  This tour includes roundtrip transportation with professional tour guide, bottled water, and an all-inclusive lunch at one of Asheville's finer cafés.

Guided Waterfall Hike.  The 10,000 acre Dupont State Forest is home to over 90 miles of trails leading hikers to beautiful waterfalls, tranquil mountain lakes, and rushing streams.  On this moderate hike our friendly guides will take you to three of these splendid waterfalls (High Falls, Triple Falls & Hooker Falls).  Two of these waterfalls were filmed in the movie Last of the Mohicans, a cinematographic masterpiece.  Make sure to bring your camera and plenty of film because this location is truly a photographer's dream!  This tour includes roundtrip transportation, licensed and certified hiking guides, a gourmet box lunch with beverages, bottled water and light snacks for on the trail.  Please wear appropriate shoes for moderate hiking.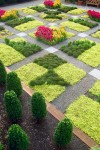 North Carolina Arboretum & Farmers Market.  Our professional guide will take you to the North Carolina Arboretum, a 434-acre public garden located within the Bent Creek Experimental Forest of the Pisgah National Forest.  Surrounded by the dense folds of the botanically diverse Southern Appalachian Mountains, the Arboretum is nestled in one of the most beautiful natural garden settings in America.  Your group will enjoy a self-guided tour of the Arboretum's core garden areas which include native plants, new cultivars that grow well in mountain gardens, streamside plants, a profusion of flowering container gardens, and the Quilt Garden, a variable star quilt pattern in blooming flowers.  One of the most significant of the core garden areas is the newly developed Bonsai Exhibition Garden, which features a selection of the Arboretum's extensive bonsai collection.  Before returning to the Resort, our guide will take you to the Western North Carolina Farmer's Market, a regional market operated by the NC Department of Agriculture that is a one-stop destination for an incredible cornucopia of locally grown fresh fruits and vegetables, plants, flowers, lawn and garden supplies, and local crafts.  This tour includes roundtrip transportation with professional tour guide, all admission and tour fees, bottled water, and an all-inclusive lunch.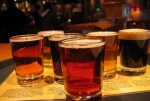 Asheville Microbrewery Tour.  From IPAs to ambers, ESBs to porters, Asheville's craft breweries receive high marks from beer enthusiasts worldwide. Taking their cue from traditional styles of brewing, each of Asheville's five microbreweries adds a bit of the mountains to every batch. Your first stop will be a beer tasting lunch at a local pub that serves great food and several choices or our local brews.  After lunch, we will give you a VIP tour of one of our microbreweries where you will have the opportunity to ask questions and partake of a generous sampling of their beers.  This tour includes roundtrip transportation with professional guide, an ample sampling of beer, and an all-inclusive lunch.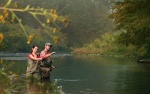 Blue Ridge Fly-Fishing.  Our professional fly-fishing guides will transport you to one or more of our pristine mountain streams well known for their abundance of brook, brown, and rainbow trout.  En route to your fishing excursion you can enjoy a gourmet box lunch with beverages.  Enjoy spending the afternoon fly-fishing for trout up to 25 or more inches long and a chance to see local wildlife.  If you are not experienced in fly-casting, you will be given professional guidance.  If you are a veteran to fly-fishing, our guides will work extra hard to give you a memorable experience.  In addition to lunch, this excursion includes roundtrip transportation, professional guide, all fishing equipment (including flies, tippets and leaders), snacks, bottled water, and all necessary license and permit fees.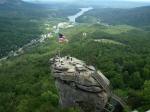 Chimney Rock Park.  Chimney Rock Park is the natural fulfillment of your trip to the mountains.  Take a deep breath of cool, clean mountain air, then head for the top where you can reach the Chimney and the Trails.  You can take the elevator up 26 stories inside the mountain to the Sky Lounge gift shop and snack bar, or hike along an exciting trail to the top of the 500 million year old rock on the edge of a tall mountain.  Alternately, if you prefer, you may take a leisurely stroll that leads through several different habitat types including stretches of rhododendron and laurel, oak-hickory forest, and meander – by way of a boardwalk – through a small wetland area where most of the filming for the Last of the Mohicans movie was filmed.  The trail loops from and returns to the top of the Park Meadows.  This tour includes roundtrip transportation with professional tour guide, admission to Chimney Rock Park, bottled water and a gourmet box lunch with beverages.
Canopy Adventure.  An exhilarating zip line experience on a stunning piece of forested mountain property just north of Asheville.  The course has one mile of suspended cable and features ten exhilarating zip lines (including one soaring 200 feet above the forest floor and one that is 1100 feet long), artfully-crafted platforms that nest seamlessly in large native trees, two rappelling experiences, two suspended sky bridges that span forest sections teeming with flora and fauna, and three short hikes.  Guests will enjoy a thrilling ride while learning about local culture, history, the natural environment, and perhaps more about themselves.  Two professional canopy rangers will accompany smaller groups of up to eight guests.  Rangers participate in ongoing extensive and rigorous training by certified industry professionals, and are certified in First Aid, CPR, and AED use.  Requirements:  All guests must be in moderate to good physical condition, between 90-250 pounds, 10 years old and over, able to walk one mile, able to reach over their heads for zip line speed control and braking, have the strength to pull their weight along the cable, and also sign a Participation Agreement Form and release of liability.  Closed-toe shoes are required (such as tennis shoes or hiking boots).  Pants or long shorts are suggested, and short shorts are not recommended.  Cameras are allowed and should have a strap so that it can be attached to your harness or it should be able to be zipped into a secure pocket.  Backpacks are not permitted on the tour.  In addition to lunch, bottled water and light snacks, all necessary equipment will be provided including helmets, gloves, full-body harnesses, plus state-of-the-art trolleys and tether lines.  Before going out in the forest canopy, each guest will receive thorough participant training and a practice session on a demonstration zip line close to the ground.  Warning: this activity has extremely limited availability, will be offered on a first-come-first-served basis, and will run rain or shine.